The Mega Millions jackpot is known as one that has made many a millionaire thanks to its high escalating cash amounts. But what are the possibilities of winning the jackpot, and what things are involved? Read on below to find out all about winning the jackpot at Holland Casino.
The Mega Millions Jackpot
At Holland Casino, you have the chance to win the Mega Millions jackpot, a jackpot that can rise significantly. Many people have become millionaires thanks to the Mega Millions progressive jackpot slot machine. With each round of play, the amount of the jackpot increases. The jackpot starts with 1 million euros and continues to increase as more players bet money on the game in question. To win the Mega Millions jackpot, you need to spin 5 gold coins on a pay line. Furthermore, the Mega Millions jackpot is completely tax-free.
Minimum Bet Requirements
To stand a chance of winning the Mega Millions jackpot at Holland Casino, you must wager at least €5 per spin. If you bet less than €5, you will win a lower amount than the full jackpot. If you bet the maximum, you will also win the entire jackpot.
The Cash Prizes
To win the maximum jackpot, you must also bet the maximum. Otherwise, you will win an amount many times lower. With €5, you win the minimum amount of €1 million, the starting amount of the jackpot. At €4, the jackpot starts at €500,000. At €3, you can score a minimum of €250,000, at €2 it's €150,000, and at €1 you hit a jackpot of €75,000.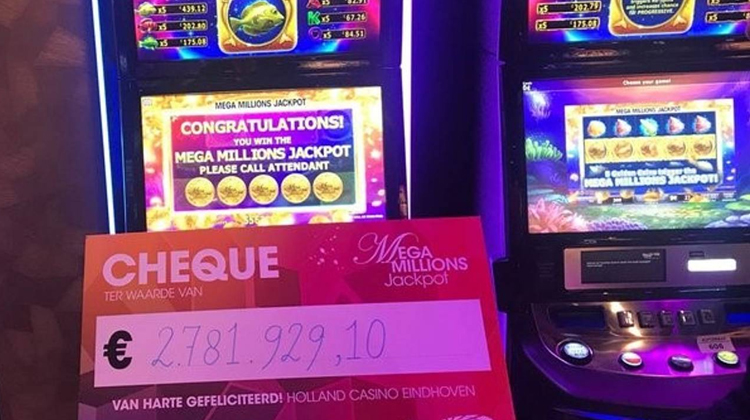 The Mystery Jackpot
At Holland Casino, you can also benefit from a Mystery jackpot. This is a randomly drawn jackpot, usually only on the slot machines. You can use the Mystery jackpot to win cash prizes, but sometimes also gadgets, trips and the like. It is not available in all Holland Casinos.
The Highest Jackpot Ever Won at Holland Casino.
Players can win great jackpots at Holland Casino regularly. In October 2019, someone won the €1.4 million jackpot at the Eindhoven branch. In October 2020, a couple hit the jackpot of €1.9 million. Furthermore, in 2020, 5 lucky players won smaller jackpots of €75,000, and one person won the jackpot of €150,000.
Fair Outcomes
To ensure that casino games are fair, a Random Number Generator is used. With a Random Number Generator, the outcome of the casino game is determined randomly so that every player who bet has an equal chance of winning and losing.
Who doesn't dream of winning the Mega Millions jackpot at Holland Casino? If you're planning to try your luck at Holland Casino shortly to score the jackpot, remember to play responsibly. Furthermore, don't play just to win the jackpot, but for the fun and excitement of the game.
Do you prefer to play online? As of October 1, 2021, online gambling will become legal in the Netherlands. So from then on, you can also gamble online at Holland Casino! We also expect the Mega Millions slot machine with its progressive jackpot, but of course, the online version.
New Promotions 8th August 2022
Mysterious is a 4×6 reel online slot that is…

Steer your ship towards a massive x10,000 max win…

Hunt down the most precious treasures together with John…
Hi, I'm Niels and I've written this article. Currently, I'm studying Econometrics at the University of Tilburg in the Netherlands. Besides school, I spend a lot of my time working on this website.  I am particularly interested in online gambling and therefore I try to know "all" about online casino bonuses, online casino games, online payment methods, etc.
Disclaimer: If you go to an online casino via a link on our website, we receive a small compensation for it. It is important to note that you do not pay anything extra for this. We would always appreciate it very much.